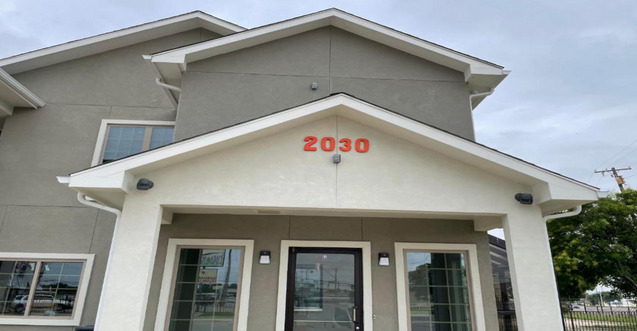 The nearest airport is Dallas Love Field Airport, 3.72 mile from BUZEN SUITES LAS COLINAS BOUTIQUE MOTEL.
Welcome to Buzen Suites Las Colinas Boutique Motel, the smart selection of Dallas, Texas hotels for travelers who want a pleasing stay in the heart of Big D that's close to many important places of interest for business or pleasure. This budget boutique hotel in Dallas TX is intended to serve a wide range of travelers and will be perfect for you.
Buzen Suites is less than 7 miles from Dallas Market Center and the Dallas World Trade Center – and we're about 4 miles from Dallas Love Field, the nearest airport. We're also convenient to DFW International Airport. Zero Gravity Amusement Park is just 1.3 miles from this Dallas, Texas hotel, and we're near Preston Center and Highland Park Village shopping centers too.
Amenities that make every stay a great one include in-room hot tubs and flat-screen televisions, professional 24-hour desk service that makes checking in or out a breeze and more. We also provide free parking. Each amenity we offer is intended to add to the experience without unnecessarily adding to our room rates.
We look forward to the opportunity to serve you and exceed your expectations for budget accommodations of the highest quality when you stay with us on Northwest Highway in Dallas at Buzen Suites Las Colinas Boutique Motel. Reserve through this website now for the best rates and availability.
Business Travel
Dallas is a nice area for conducting business – with plenty to see and do along the way. Looking for affordable Dallas Love Field Airport hotels that are well-suited for business travelers? Not all local places to stay are the same, but you can depend on a consistent and pleasant experience when you stay with us. We're a great idea when you want a budget- friendly selection of hotels near Dallas World Trade Center too. And you won't find a more inexpensive place to stay that has simple, smart amenities to add to the experience without adding to the price. Why not make our sensible, affordable and consistent hotel your first choice? From the moment you arrive, you'll like us.
Family Travel
Motels in Dallas, Texas that are appropriate for family travel can be hard to find because, unfortunately, some places you might stay don't cultivate a family-friendly environment. And some don't offer rates that are right for today's cash-strapped families. But you'll find the experience you want at this budget boutique hotel in Dallas, TX – which is also the best option for a Zero Gravity Amusement Park Dallas hotel. Whether you're looking for hotels near the many tourist places or just passing through, you're sure to stay in comfort and with the best amenities when you stay with us. May we be your go-to place for family accommodations in this part of North Texas?
Affordable Hotel Stay
Travel can be expensive, of course, but it's possible to find an affordable pick of Dallas, Texas motels where you'll feel at ease when you select Buzen Suites, a great option that's close to both business and pleasure points of interest. Whether you're looking for a place to stay for a while or just need a room to lay your head for a few hours, we hope to be your first and best pick because of our exceptionally affordable rates and simple amenities that add to every stay. While you may find other Dallas, Texas hotels that are as affordable, you won't find a better stay for the price no matter where you try.
Comfortable Stay
Looking for a motel in Dallas TX that you can trust for a great, comfortable stay at a price that makes sense for your budget? Many places in Big D are overpriced. But we're here for you with comfort at an affordable price when you stay at our well-rated independent property that's close to everything that matters. May we be the pick of hotels near Love Field or the Dallas World Trade Center, for example? Stay with us for free parking, in- room hot tubs and much more. Why not book a room with us at Buzen Suites now so you can have the affordable and pleasant experience you need? We'll do a great job.